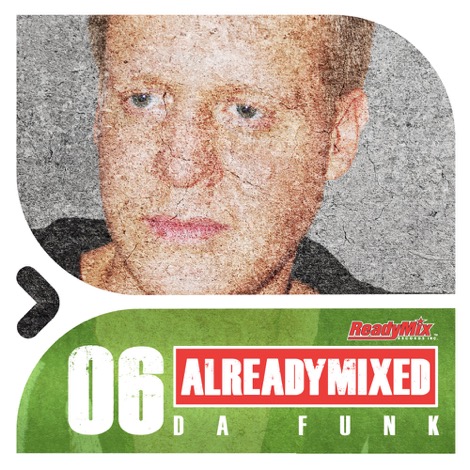 Our 6th installment of the "Already Mixed" compilation series
(Compiled & Mixed by Da Funk) is out now and available exclusively at Beatport.

We continue digging deep into our catalog to present you with the 6th installment of the "Already Mixed" Compilation series, compiled and mixed by Acryl Music's mastermind and hardworking RMR family member from Switzerland, Da Funk. With over 200 releases under his belt on such classic labels as iRecords, Pacha Recordings, Plastic City, AnjunaDeep, Forensic Records and Dutchie Music to name but a few.

Da Funk is an honorable professional producer offering his heart & soul to House Music. From the opening intro by Evren Ulusoy to the closing Pablo Fierro remix of Da Funk's own "Gloomy Scene", Da Funk delivers a flawless journey that surely demonstrates his mastery behind the decks.

This Compilation continues to shed light on the labels growing musical catalog and we would like to extend a huge thank you to Da Funk's Acryl Music and our Sub-Labels Itom Records and Empty Whisky Flask Records for allowing their outstanding music to appear on this brilliant mix. We hope you enjoyed our latest Journey into sound!

Including tracks and remixes by:
Evren Ulusoy, Forteba, Moti Brothers, Paul Mad, Mihai Popoviciu, Chriss Ronson,
Yvel & Tristan, Seva K, Seraphine, David Kassi, Lonya, Harold Heath
and many more....

Out now!



Thomas Dieckmann-The Mission (Da Funk's New Thoughts Of Mind Remix)
is out now and available exclusively at Beatport.

Thomas Dieckmann's 'Good Old Days' is the ninth release on New Zealand's UM Records. Two main room deep and bouncing original tracks from Thomas are supported by remixes from Swiss deep house maestro and Acryl Music boss Da Funk with his take on 'The Mission' bringing a serene slice of deep house to the EP. 'Good Old Days' gets remixed by Mexico's Mike Montano delivering a percussive packed flavour to proceedings once again extending UM Records' typical deep house sound.

Out now!



Tim Andresen-Whatcha Want (Da Funk's Fancy Some 909 Remix)
is out now and available exclusively at Beatport.

Whatcha Want is a release coming from three of the best underground Deep House and House producers and label owners in Europe. Tim Andresen, who is one of the busiest men of the scene, is not only one of the best known Danish producers, DJs and label owner of What Happens, but also one of the main event organizers of Culture Box in Copenhagen, putting together some of the best parties in Scandinavia.
With his Original "Whatcha Want" he offers up a simple, clean, smooth and emotive Deep House track that showcases his production skills as well as his ability to offer up something refreshing and addictive.
The first remix of the pack comes from Da Funk, who alongside running his own label Acryl for the last 8 years has become one of the front producers of Deep House in the underground scene. His remix, "Da Funk's Fancy Some 909 Dub", brings you back in time with its vintage and real sounds, combined with the classic Da Funk style. It is a deep lushes track with a bit of acid thrown in the mix for the dance floor.
The last remix comes from our label owner Alvaro Hylander, who provides one of the most consistently deep catalogs out there in the scene. His remix is a deep intoxicating bumping house remix infused with rhythms and groove he has built his name on. The track is strictly deep house tailored for dancing.

With three of the best producers who consistently make their way into the top hundred across multiple shops and genre's this release is about the quality and uniqueness each producer has to offer up the ever expanding fans of house and deep house music.

Out now!