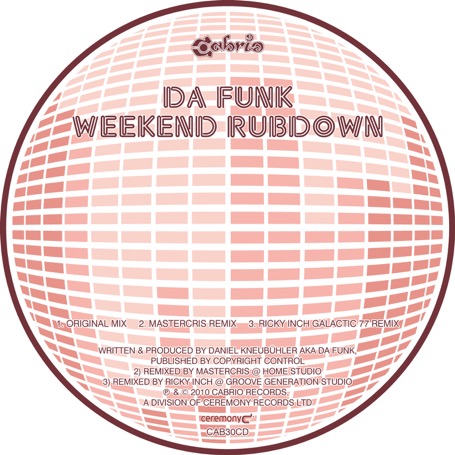 Anybody know Swiss producer 'Da Funk'? We know you all do as he has been one of the busiest men in the deep house scene, releasing tracks and remixes on Elevation, Dutchie, Pacha, Acryl, Plastic City, as well as on Cabrio. This summer we have two new releases from him. Up first we have "Weekend Rubdown".
DJ Feedbacks:
"im really feelin your new track man - love the vibe and simplicity - which always makes the best soulful music
will support this a lot, i can hear this as being an atmospheric part of an epic dj set early on - and ill do my best to make it part of one."
Desyn Masiello (alternative Route, Bedrock, Yoshitoshi)

"
love it excellent track!"
Pete Moss (Recline, Dessous)
"Sounds good ... I like the big key pads, very nice. Cheers for the listen!"
Q-Burns Abstract Message (Eight Tracks)
"This one's got the 80s written all over it - and I happen to really like the 80s. You just can't go wrong with 808 drums, warm chords and a short Fairlight "ah" sample."
Elmar Schubert (Satin Souls, Freerange, Naked Music)
"weekend rubdown is awesome, well done :)"
Hisham Zahran (Proton, Dyami)
"Soundin great, make sure you pop me my copy ;)"
Dibby Dougherty (Global Underground, Audio Therapy)
"loving the sound – quality release – again!"
Richie Hartness (Untitled Music)
"i need this awesome track man"
Acos KoolKas (Force Inc., Acryl Music)
"Nice track mate, gentle groove and nice flow."
Paul Jones (Disclousre Project, Elevation, De Giraffe)
"great work, love the 80s flavour, will surely play", mp3 pls...
Andy Bach (Young Society Records, Society 3.0)
"This is DEEP! Lovely, beautiful and sexy! Full support!"
Cem (Pure Passion, Pacha)
"Nice deep stuff mate...perfect for the weekend ;)"
Nestora (Acryl Music, Disclosure Project)
"Congratulations danny...
Absolutly lovely!! Really dreamy atmosphere...Puere Deep as is it!
Nothing else to say..Just FANTASTIC! 10/10
Alex V (Sophisticate Recordings, Night Drive Music)
"Great Track! Max Support!"
Mirko Paoloni (Radio Party Groove, Italia)
"this one is freakin' hot man I'm lovin' it! on my next mix for sure. congratz I think it will be a great selling item. please keep the goodies coming!"
Bios (Loud Society, Acryl Music)
"Excellent material Dany, big up your bad self - beautiful change at 4.55 dude2
Craig Stewart (Raunchy Rhythms Radio)
"very good & nice vibe mate !"
Christoph Kardek (Love Zone, Fiat Lux, Acryl Music)
"Melodically Astounding In Every Sense From The Dance!"
Delmar Browne (AOL Radio)

"Nice Deep Work! as usual!"
Amir Groove (Ibiza Sonica)
"Yeeeahh!! Superb!"
Zuat-Zu (Sophisticate)
"this is super duper"
Replika (Conya, Acryl Music, Pesto)
"Loving Mastercris remix and the original."
Fabien Kamb (Low Flow, Body Rhythm, Neurotraxx)


"Lovin the "Weekend Rubdown"... will be supporting live & on our show!"
DJ Inc (Proton Radio, Tempoatl.com)
Get it ready for the weekend!"
Out now on
beatport.com