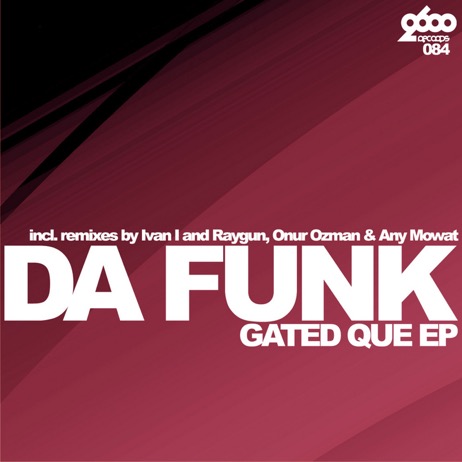 Da Funk-Gated Que E.P.
01. Gated Que (Original Mix)
02. Where Is Your Head (Original Mix)
03. Where Is Your Head (Ivan I & Raygun Remix)
04. Where Is Your Head (Onur Ozman Deep Remix)
05. Gated Que (Andy Mowat Remix)
Release Date:
22.09.2010 (Beatport exclusive)
30.09.2010 (worldwide)
DJ Feedbacks:


"Great summery tracks with a slight balearic feel to them. Diggin both original mixes!"
Elmar Schubert (Satin Souls, Freerange)


"Hey Dany!!! you surprise me with this pack!! Amazing i´ll play and i´ll put in my top chart."
Pablo Fierro (iRecords, Stratospherik, Cover Music)


"Good stuff again, Dany. Keep them coming!"
Tom Morgan (Discoteca Music)


"brilliant release the originals are great. as always great stuff from Da Funk. we will support"
Latenta Project (Wavesurfing, Elevation)


"Good release my friend...... I love the originals but pass me all release if you have it...."
Sendos Fuera (Extremely House Music, Plastic City, Ibiza Sonica)


"liking all of these :)"
Hisham Zahran (Union Jack, Acryl Music, Dyami)


"original Gated Que is really nice mate , thank u!"
Steve Mill (Urban Torque, Discoteca)


"gated que is class man!"
Dibby Dougherty (Global Underground, Dutchie, Audio Therapy)


"Thanks Dani, would be great to have the Ivan I & Raygun remix, really like it !!!"
Soul Minority (Kolour, Pack Up And Dance, Elevation)
"Like the original from Da Funk!"
GarcyNoise (Justified Cause, Om Records)
"Yes please."
Raymundo Rodriguez (Jaded, Ministry Of Sound)
"Fantastic ep..my friend. Congratulation"
Miguel Garji (Ibiza Global Radio)
"Onur Ozman mix for us!"
Karol XVII & MB Valence (Loco Records, Loco Records Supreme)


"All good - Onur Ozman Deep Mix is my fav"

Brother's Vibe (Mixx, Deep Vibes, Sushitech)
"Another fine tune! Great to get the link!"
Richie Hartness (Untitled Music)


Original is HOT ! Will support."
DJ Electric (Deepology, Luckystars, Clubstar)


"Good ep. Thanks."

UGLH (8Bit, Supernature, Caramella)
"Hi Dan, yep liking this, sounding as groovy as ever!"
Russel Deeks (iDJ Magazine, This Is Why We Dance Blog)


"
Crackin Ep. All mixes are great, but my fav is Gated Que original and ivan & raygun mix just cos i've got my deep head on. Will defiantly hammer them out."
JP Phillippe (The Disclosure Project)
"Both originals are great! We also really like Ivan I & Raygun remix - dope deep house thing.
Andy Mowat remix is little bit to proggy for our sets, but we have to say: this is massive one!
Great EP, mate! Congrats with this!
Feodor AllRight & Elena Mechta (AMDJS Radio Show)
"It is a proper deep house EP and I fully support this one. My favorite one is Where Is Your Head (Original).
This track has very catchy dark sound and really massive bassline! I would play this one on my show "Housetrap" for sure.
Keep it going!!! All the best!"
Kyka (Cabrio, Housetrap)
"Beautiful ep and another big support from me.
another slamming deep tracks,original and Onur Ozman are so hot.
Full support comes from me"
Bobi (Club FM Radio)
"guess if I like them or not :) of course I do - as usual.
From the remix range I really like the Ivan I & Raygun dubby masterpiece in fact that version is my fav from this EP."
Bios (Acryl Music)

"Hey! Nice EP !!For me Ivan and Onur remixes do best, but all are nice ! Thx!"
Budai & Vic (Plastic City)
I really like Gated Que...very funk bassline and groovy. Gret work dany!"
Alex V (Sophisticate Recordings, Night Drive, Justified Cause)
"Great package , my favorite is "Where Is Your Head (Onur Ozman deep mix)" Onur make a good work on this track. I Love it !"
Yohan Esprada (Underground Collective, Tokyo Red Recordings)
"Very nice sounds, mate!! Thanks for promo pack....Like it!"
Elastic Sound (Aquamarine, Deepology)
"another great EP from one of my fav Record Label. Well done guys, Full support"
Amir Groove (Ibiza Sonica, Deep Class Records)
"Very Good! Where Is Your Head (Onur Ozman deep mix) is the best for me!"
Mirko Paoloni (Radio Party Groove Italia)
"Some serious sh*t for the dance floor here, great job"
Craig Stewart (Acryl Music, Seamless)
"High quality release as always mate! Originals and Ivan I & Raygun Remix are my picks !"
Nestora (Acryl Music, Disclosure Project, In Deep Records)
"I like the original + Onur Ozman ... good job !!"
Bruno From Ibiza (Ibiza Sonica, Café Del Mar)
"Love the EP as a whole will def support. Gated Que is my favourite out of all them though."
Erefaan Pearce (Pin Up, Under Tones)
"Like some tracks as Where Is Your Head (Original), Gated Que (Andy Mowat remix), Where Is Your Head (Onur Ozman deep mix) will play, and charting
Deep-Maker (Acryl Music, Galvanic)
"Thanx mate for nice stuff. Like here mostly the way Onur builds hes percussion beat's - relly cool!"
Ricky Inch (Cabrio, Ceremony, Brown Eyed Boyz)
"Hi Dany, good set of tracks like it "
Greg Fenton (Soularis, Guidance)
"Love the Ivan & Raygun Remix...."
Lou Lamar (Zurich By House, Ibiza Global Radio)
"Thank you so much for this amazin EP. Really deep & sexy stuff. Hard to choose one but my fav is Gated Que. I will play."
Edground (Brazilian Soul Crew, Grooveland Music)


"both onur and oringial mix of where is your are great, thanks"

Wehbba (Blu Fin, Tronic)


"download, thanks"

Paco Osuna (Mindshake, Plus 8, Club 4)


"i like tracks 2 and 3. nice stuff. thanks."

Dave Mothersole (Ministry Of Sound Radio)


"Gated Qu Original Mix: nice one!"
DJ Linus (Exun, Gigolo, Pacha)


"wicked deep mix"

Kid Massive (Audiodamage)


Out now exclusively on beatport.com: