Acryl Music Presents: In The Night Vol. 3 out now!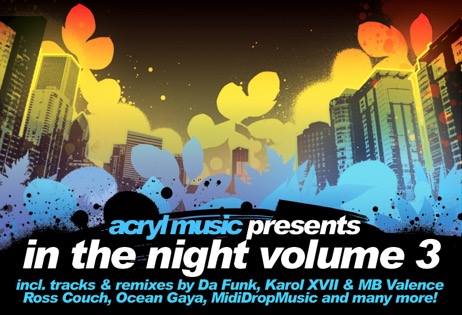 Acryl Music Presents: In The Night Vol. 3
Here it is, the long awaited Volume 3 in our "In The Night" series. Packed with brand new and previously unreleased house nuggets, carefully selected from upocming Acryl singles alongside distinguished works from our back catalogue by both well established artists and rising talents.
Release Date:
23.04.2010 (Beatport exclusive)
21.05.2010 (all other stores)
Tracklist:
1) Timo Camillo-Sandal Beads, Falling Leaf
2) Deep-Maker-Smells Like Teen Spirit
3) Sunner Soul-The Circles
4) Craig Stewart-Make Me
5) Ivan Enot-Morning
6) Nestora-Movement (Ross Couch Remix)
7) Ocean Gaya-Some Things
8) De Jean & Bach-Night Flight
9) Onur Ozman-Change
10) Fer Ferrari-Looking Ahead
11) Karol XVII & MB Valence-Doped
12) Agent Matteo-Feel My Vibe
13) Da Funk-Gloomy Scene
14) MidiDropMusic-The Release (Dos Compadres Taco Truck Remix)
15) Helly Larson- Can't Come Down
Out now!