Da Funk-From The Vault E.P. out now!
Dear friends,
A new year, a new release!
Acryl Music's 17th release, out now!
Da Funk has digged deep in his archives for this beautiful, deep and melodic 4 tracker.
All tracks have been produced a few years back but they're still sounding fresh and timeless we think.
Promo Reactions:
"i like the EP, thanks for sending it, it's very deep and dreamy, nice wind down kind of vibe too it."
Sean Dimitrie (Bombay, Reverberations, Transport)
"hey man...greetings from atlanta...
you're stuff is sounding excellent as per usual....!"
Chris Brann (Ananda Project, Wamdue Project)
"there's some really nice deep house here, pick of the bunch for me is "I Want U", nice tight beats, groovy, sexy house music.
nice one, keep it up!"
Harold Heath (Urbantorque, Detour, Freaked)
"I Want U" is the winner. I really like it, beautiful harmonies, alltogether it's well balanced. maybe it would have been a tick better without the clichée vocal but it also works as is."
Manuel Tur (Freerange, Smokestack, Agave)
"thanks for sending. i have checked all the tracks. For me the two stand outs are "I Want U" and "Casual Sub", nice early / late night gear."
Leigh Morgan (Urbantorque)
"yo dany, really enjoyed the last acryl ep, smooth as always mate..."
Jay West (Drop Music, Agave, Kolour)
"i got the tracks, thanks. my favourite are "Feel The Night" and "Sweet Kiss"
good job again !!!"
Bruno (Café Del Mar, Ibiza)
"HOLY SHITE!!! "Feel The Night" is being released?? love that song soooo much. so great, such emotion and great music. great job mate!"
Michael Day (Inhale Music, All House Music)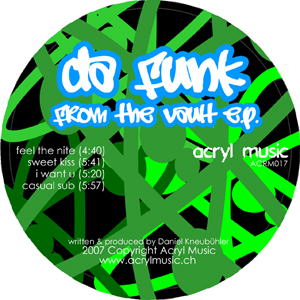 Avaliable on the following Download-Stores:
www.beatsdigital.com
www.clickgroove.com
www.karmadownload.com
www.stompy.com
www.trackitdown.net
www.wasabeat.com