15/10/08 18:08 Archived in:
News
Da Funk (Acryl Music)@In Love With Deepology Radio Show on
Proton Radio
Exclusive 1 Hour Set & Interview!
November 3td, 2008.
Tune In!
Further Informations on:
www.deepology.ru
www.protonradio.com
Acryl Music's 25th release presents Onur Özman hailing from Istanbul, Turkey. Still releativly new to the scene but already with releases on Amfibius, Funkfield & Carica, this guy has a nright future ahead! His productions provide a fantastic mixture of techyness paired with classic Deep House elements.
Lovely!
Remix duties coming from Acryl head honcho Da Funk (Forensic, Elevation), Adam Jace (Elevation, Plastic City) from Sydney, Australia and Lukas Greenberg (Plastic City, I Love Deep) with his 2nd remix for Acryl Music.
Enjoy!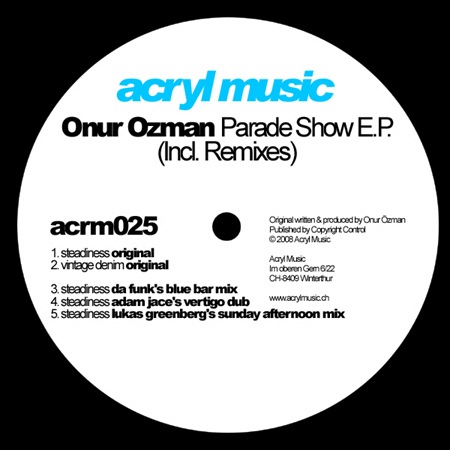 Promo Reactions:
"Great work as usual, loving the Da Funk's Blue Bar Mix. A massive respect to all of you from Acryl Music!!! Keep it Deep, Innit!!"
Amir Voloder (Monday Deep Session, Push FM)
"This is excellent, the original versions by Onur are brilliant - they remind me a little of Paper Recordings type vibe & that was my favourite label! The remixes are also great, each one adding a little twist on the original, I think Adam's version is the pick for me as it's really warm & deep, just great." Al Bradley (3 A.M. Recordings)
"wicked release , i really like all the tracks, my favourite has to be the Lukas Greenberg Remix, very nice work again."
Agent Matteo (Deep Class, Next Dimension)
"I prefere N°3 (Da Funk's Blue Bar Mix) good energy, elegant deep, sensual...... Good vibe ;-)"
Christoph Kardek (Atal, Fiat Lux, Gogo)
"All mixes is great ! My fav is Adam Jace's Vertigo Dub. Thank you for sending !"
DJ Electric (Deepology Digital)
"The Lukas Greenberg mix is nice but my clear favourite here is the Da Funk mix - a big, chunky groover with plenty of dancefloor appeal!"
Ross Couch (Body Rhythm, One Thirty, Blakkat)
"Thanks for the tunes! I absolutely dig them! Very cool stuff! Keep kicking!"
Lenny Ibizarre (Ibizarre Music, Ibiza Sonica, Café Del Mar)
"feeling Lukas Greenberg's mix for sure!!!!!"
Mark Lowry (Shinding, Dutchie, Forensic)
"my favorite..
1.Steadiness (Da Funk's Blue "Oyster" Bar Mix) " voll geil "
2.Steadiness (Lukas Greenberg's Sunday Afternoon)
3.Steadiness (Orginal Mix)"
Lou Lamar (Zurich By House, Kaufleuten)
"cool pack....lucas mix for me"
Juan Mejia (Dutchie, Grouper)
"loving this release man, i own a few of his works already, so this ones a great new addition to my sets.
feedbacks below:
steadiness original is class !, groovey, chugging and nice interesting house vibes, really into this one .
vintage denim original again a really great house groove, i like the mans work a lot.
da funks remix is nice stompy and bouncy stuff, will be playing this one for sure !!
adam ace remix is a bit more deeper and darker leading to a swirling lost in it groover
lukas greenberg remix is really nice, grooves along sweetly and has enough drive and interest for me to love it
very hard to pick my favourite here, i like all of them man."
Mr. Jones (The Disclosure Project, Exquisite, Night Drive, Elevation)
"Awesome package, liking all mixes, especially adam jace and
lukas greenberg is my fav."
Subsky (Urban Torque, Plastic City, Forensic)
"Onur Ozman-Steadiness (Da Funk's Blue Bar Mix) and vintage denim for me!
nice one."
Henri Kohn (Clubstar, Conya, Little Angel)
"Very good ep man I like The Vintage Denim,very elegant and groove track and Steadiness (Da Funk s Blue Bar Mix) deep deep deep sound!!!!!!!!!!"
Jesus Gonsev (Troubled Kids, House Café)
"Nice Track, cool mixes..... "
Bamo (Spiritchaser, Duff Note, Guess)
"Nice package, liking the Da Funk remix the most.... support from Spiritchaser"
Richard Earnshaw (Spiritchaser, Duff Note, Guess)
"Huge release, cant say what track I like more. I think the original and da funk ones but we never know which one I will like tomorrow"
Andre Kronert (Neurotron, Ostwind, Night Drive Music, Session Deluxe)
"i really like Da Funks mix, got a good drive to it, good flow! like jaces's dub too, i think both are very playable, will be playing and charting"
Harold Heath (Urban Torque, Plastic City, Dutchie)
"i really like adam's remix and the original of vintage denim.."
Scope (Urban Torque, Large, Nrk)
"both original are pretty cool , pleasure to listen to, thanks for them"
Steve Mill (Urban Torque, Elevation)
"Quality deep house. Adam Jace's mix is the winner for me. Deep and driving and a with a perfect breakdown."
Elmar Schubert (Satin Souls, Dessous)
"mix 3 and 4 are for me. nice work as usual from this lovely swiss guy. good music with a bottle of hierbas and the world is down on my feets..."
Marco Berto (Deep Love, Viva Music)
Out now exclusively on
beatport.com
Official Release Date: 03.11.2008