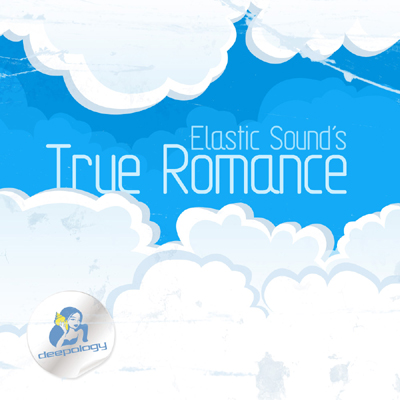 Elastic Sound - True Romance [DD035] DEEPOLOGY DIGITAL
1. True Romance (Da Funk's Back To The Future Dub)
2. True Romance (Kyka Remix)
3. True Romance (Original Mix)
4. True Romance (Ricky Inch Lovely Dub)
5. True Romance (The Disclosure Project Remix)
Promo Reactions:
"Been supporting the Da Funk remix :-) Sounds fantastic !"
Neil Bainbridge (Forensic, Stylus, Lost My Dog)
"Good stuff from Deepology you've sent me here. My personal highlights from this package are Da Funk's remix - sounds really trademarked (proper job Dany), and The Disclosure Project's remix - very emotional rework."
Fabien Kamb (Elevation, Deep Class, Acryl Music)
"Well done…I love this release and will support and play it in my deepest sets. I prefer da funks and disclosure project remix even all tunes are great. Thanks for the nice promo. I love deepology!!"
Andre Kronert (Night Drive Music, Ostwind, Session Deluxe, 616 Detroit)
"Da Funk's remix is our absolute favorite from this pack. We'll definitely spin this tune a lot."
Salt Sweet (Acryl Music, KGBeats)
"nice one! feelin the kyka remix and True Romance Original!"
Jevne Miller (Onethirty Recordings)
"Its nice & all well produced. out of all the tracks, Da Funk's remix is my fave as its a really nice piece of music but it's not really what i play when i'm DJing thanks very much!"
Harold Heath (Urban Torque, Plastic City, Lost My Dog)
"I like the Da Funk remix the most cause its simple sounds great and fits perfectly for opening my future sets :) Great work!"
Nestora (Disclosure Project, Acryl Music)
"Cheers for the promo mate its yet another stunning release from deepology and the Da Funk mix sets things of nicely..... good work 8/10"
Cenzo Scoglio (MidiDropMusic, Glideslope, Guess)
"Really like the Da Funk remix that's the pick of the bunch for me :)
Eelke Kleijn (Outside The Box, Proton, Global Underground)
"I like the approach of the remixers to stay quite close to the excellent original and only add some new twists. Da Funk's dub is the most floor friendly mix and is therefore the mix I'll be playing."
Elmar Schubert (Satin Souls, Dessous, Baystreet)
"i will play the Da Funk remix and the original track, like so much. Thanks"
Fer Ferrari (Deep Class Recordings)
"Ricky Inch & Da Funk are the winners here! on my Cabrio show this week!"
Dave Storm (Ceremony Records, Cabrio, Seamless)
"That Da Funk rmx is fucking lovely, themelodies are excellent."
Nacho Marco (Loud East, Freerange, Elevation)
"great deep shit, will surely play for warmup or late night or sunny afternoon. my favs are the original and da funk mix!"
Andy Bach (Young Society Records, Zaubermilch)
"All mixes are really nice. Original and Da Funk doing it for me!"
Adam Jace (Thug, Eleavation, Plastic City)
"I like the original best still on here. I have been playing our disclosure project remix out on shows already also."
Mr. Jones (The Disclosure Project)
"Da Funk's Back To The Future Dub is great for the mellow end of our Spiritchaser sets. Very nice indeed."
Richard Earnshaw (Duffnote, One51, Guess, Kinetic Management)
"Well after listening to the original and spotting that The Disclosure Project had done a remix of it I was sure they would do something good with this...I wasn't disappointed! Great job from the dynamic duo, very classy sounding remix - will definitely support this. Da Funk's mix is also a good one."
Ross Couch (Body Rhythm, One Thirty)
"Always quality guys ! Well done !"
Steve Mill (Urban Torque, Elevation)
"Thanks a lot ! Really nice deepness !"
Spin Science (Urban Torque, Cabrio)
"Amazing Package, Good Work Guys! Really like this package will play in my sets and my radio show , da funk & disclosure project mixes are for me."
Bobi (Club FM Radio)
"This release is fantastic! Especially the Da Funk remix, lush lush deep sounds. Full support on this !"
Strakes (Lost My Dog)
"Great summer feel to this track, all the mixes will be played by me over the coming months."
Bamo (Spiritchaser, Guess, Duff Note)
"Lovery release again! I love original, Discolover mix and da funk's remix :) Every mix are worm and deep groove.sure, will play!!"
Satoshi Fumi (Klik Records, Urban Torque, Proton)
"Sublime ep,no words needed for this the music explains the atmosphere on it own, perfect for the spring time ! We couldnt pick a fav here, but if "we must pick one" than we would choose the disclosure project remix ! Simply gorgeous."
Latenta Project (Proton, Elevation)
"35th Release – Congratulations ! Quality pack this, something for everybody – either early doors or peak time dance floor devastation."
Craig Stewart (Raunchy Rhythms Radio)
"True romance" by Elastic Sound is melodic deep house loaded with beautiful synth melodies, coming complete with various remixes: Da Funk gives the track an old school touch with a spacey edge, while Kyka serves a deep electronic version. Ricky Inch reworks the track into a tougher, slightly progressive affair, while lastly The Disclosure Project smooth the vibe down for a laidback truly deep feel."
Michael Fossati (Spiritofhouse.com)
Out now exclusively on
beatport.com