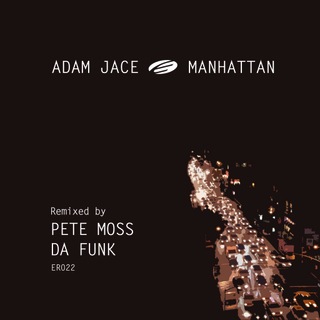 Promo Reactions:


Kosmas Epsilon: Adam Jace is amazing. The Da Funk mix is special. keep them coming boss :)
Matt Masters (Freerange): Really feeling this mate - Adam Jace - Manhattan - Da Funk (Wildlife Conversion Remix). Love the groove and strings… will try and fit it into Septembers Podcast…
Jay Tripwire: Pete's mix is deffo the one for me, that is some hot shit!!
Nacho Marco (Loudeast): YESSS ! Liking all mixes, but my favourite is the Original Mix. Full support.
Llorca (F Com): The pete moss remix is ace.
Scope (NRK): Great ep.. All 3 mixes are great, although Adam's original mix stands out for me.. Will fit perfectly into the Scope sets!!
Lars Behrenroth (Freerange): Diggin' the original mix...a very nice ride
Pablo Bolivar (Regular): Top release, Da Funk 'Wildlife Conversion' Remix its my track, i..ll play it!
Tom Blacksoul: Da Funk did amazing job on this remix! Absolutely amazing mix. Lovely
BP Zulauf (Helvetica): Some really cool tunes here, Da Funk is really nice and glitchy techy, love it and supporting this one
Jose Gonzalo (Intergroove / Deejay Magazine Spain / Travelling Soul Recordings): Manhattan is a really nice track. High quality production for selected fdance floors. My favourite track is Da Funk remix. Full support.
Rob Paine (Worship): I have to say i am feeling the Pete Moss remix the best. and not just because i am bias :)
DJ Manchini: I like original mix, nice groovy power in it. deep stuff
Sergi Ribas (Ibiza Global Radio): This release is great as everything of Elevation Rec. In all my sessions , there is always space for Aruba and Elevation tracks
Joan Ribas: Excellent…my fav mix is Pete Moss mix
Simon Birner (Klein): nice production, my favourite is the original. will test it today in the club.
AMDJ's: Many thanks for this excellent package! All the tunes are great! But most of all I liked original mix. I will play it in my immediate radioshow as one of the best august tunes! Lena Mechta. amdjs, radio Petersburg 69.47fm (Saint-Petersburg, Russia)
Daniel Kyo (Loudeast, Elevation, Plastic City): The original is my favourite.Really musical track with good beats.Great work for Adam!
Jesus Gonsev: Thanks for sending this EP!!! I loving all the tracks but my favourite is Pete Moss Remix, Deep incredible deep!!! Full Support!!
Mirko (Party Groove): Great work, Deep!!! Full support.
C&M Productions: We loooooove the original mix! we play this track on our last gig in Cologne with a great reaction from the party people....:-)
Bamo (Guess): Been playing "Manhatton" out, all mixes are cool.
DJ Chloe: I like each one for diff reasons. will play them all. Petes for subdued warm up deep house. spacy and awesome. Org for bigger builder moments. da funk for the same
Patrick Turner: been playing the pete moss mix.. nice !
Xpansul: Pete Moss' remix is soooo elegant. Good one. Thanks
Kirby (Tango): lovin the pete moss remix, great deep stuff
Raymundo Rodriguez: I'm loving the Da funk and Pete Moss mixes, definite club and radio support. Ministry of sound show playlist 20th/23rd August 2008
Tuomas Salmela: I'm liking da funks mix the best. good afterhours jam.
Magnus Asberg (C-Soul,On The House): I like the Pete Moss mix the most all trax good production..
Bruno Lepretre (Ibiza): I like this track, so deep. My favourite mix is the DA FUNK, I like also PETE MOSS remix.
Randy Brusetto (Soulstar): The original thing is a very interesting progressive track, with Detroit influences, and a wonderful mix of the nappes. I love it ! Pete's mix suits a bit more to my DJ sets, that's why it's that one I will play. I love the downtempo touch mixed with the groovy bassline (Demarkus Lewis style). Perfect to make a break in the middle of a DJ Set. I'll try it this evening in my event @ Cercle.
Neurotron, Night Drive Music: Love the Da funk and Pete Moss remix. Da Funk made a huge summer tune. I'm dancing here in the office…nice nice. Pete made a mellow and mindblowing dreamer. Will play out all this 3 tunes. Thx for the promo.
Bal Erik: Really nice, will play the original & Da funk mix
Angel Molina (Sonar): My support to the original mix, good tech-house with detroitish feeling!
Al Bradely (3 AM): Definitely feeing Da Funk's mix, am right into his tracky deeper vibes, top quality stuff oh yes.
Ross Couch: Thanks for the new promo. Liking the Original Mix here, particularly the sections with the chord changes. Da Funk does a good job on remix duty bringing a strong groove and if his mix had retained the chord changes from the original it would definitely have been my favourite.
Tim Andresen: Massive! All three mixes are good. Elevation is slowly but surely being one of my favourite labels around. Will chart and support!
Tom Morgan: The original has a nice groove to it but Pete Moss's remix is the one here. Will definitely be playing early set.
Danny Stott: Really into all three, quality stuff!
Derek Hayes: Another Quality release mate v.good package all round but i'm really more into the original, excellent sounds, look forward to hearing more from Adam in the future.
Luis Vae: Love original mix. Tested on saturday and rocked the dancefloor!!!
Steve Mill: Adam is always quality. All three tunes work for me
Big Al (Ready Mix): I am honestly loving all mixes. Each mix has its own charm and works for me in a different setting. Will play, chart and support this one big time. If I had to choose just one. I would go for the Pete Moss mix.
Bruno From Ibiza: DA FUNK remix is my favourite thought I also like theorigianl and PETE MOSS remix. Will chart this release next month.
Pedro Cali: great release, love original & da funk remixes as usual
St Thomas (Kompakt): I love it a lot, great chord pad, great tune!!
Steve Parry: All mixes are good - I think Original will get most plays from me
Anderson (Noise): I really like Manhattan (Da Funk 'Wildlife Conversion' Remix)
Elan Hurtado (Blockhead Recordings): I like all mixes but my favorite of all of them goes to the "da funk" remix. Top notch!
Richard Earnshaw (Spiritchaser): Liking the new promo.... will be a firm inclusion in the Spiritchaser sets!
Alan (Mode Music): Moss Remix is DOPE!! Love it..
Henri Kohn: nice stuff. da funk and pete moss mixes are my favs.
Blunt (dpress industries / thump elektroniks. barcelona): I really like the whole ep, but the original is the best one for me…yeah it..s exacly my taste...love it!!
Pierre Ravan: I will play Definitely the Original mix in my Open air late hours set and the Da Funk mix in the darker room pick time this weekend...
Timmy Stewart: Feeling the wildlife conversion mix the most here... Great drums!
Spin Science: Da funk remix and original are some dope pieces! Will play and support!
Harold Heath: proper deepness, all 3 tracks are usable, think i'll be going with the origianl just because its got the most energy. Great breakdown & you're right about the hats too! full support will play and chart.
Juan Mejia (Dutchie/Grouper recordings): Wasn't so into the original....but the da funk mix is cool and the pete moss is the pick of the litter...your label's consistency is amazin....cant wait to hear wht else you got on deck :)
Patrick Turner: I like the release
DJ Electric(Koala, Deepology Digital): Da funk remix is brilliant.
Paul Jones (Exquisite): like the pete moss remix the most and will play it out in some sets early on.
Carlos Francisco: The Wildlife Mix and the Pete Moss my fave's! The Wildlife Mix goes in my club set and the Pete Moss mix in the Deep house bag!
Alvaro: Loving all of them but specially Pete Moss's remix. Very deep and smooth. Original & Daniel's will work perfectly on the bigger dancefloors. Support 100% on the radio & in my sets
Dave Hughes: Great tunes as always, love all 3 but id have to go with the original mix as my number 1 and the pete mss mix as my number 2. Ill defo be dropping the original next week at a big party im playing. Ill save the pete moss mix for a deeper session soon too!
Bradford James (Seed Recordings): The Original Mix is dope! Overall nice deep techy release! Thanks For the Love!
Mark Lowry (Shindig UK): Great stuff, loving the Da Funk & Pete Moss mix's......thank you!!!!
Bobi (Club FM): thanks again for the nice tunes! Very nice house tunes in there, will definitely fit in my sets. Many thanks
Anil Chawla: Pete Moss mix is very nice :-)
Tyler Stadius: Love Da Funk's remix & the original mix of "Manhattan" - vibey synthy grooves. :)
Adam Jace-Manhattan (incl. Da Funk & Pete Moss Remixes) on
Elevation Recordings
out now at
beatport.com
.