Cosmic Belt-Do You Feel Alright (Incl. Da Funk Remix) out now!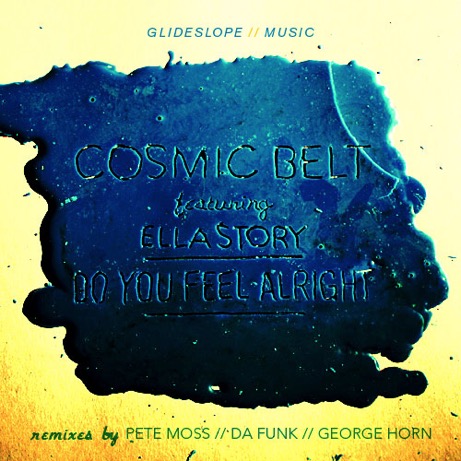 Cosmic Belt Feat. Ella Story-Do You Feel Alright (Remixes)
01. Do You Feel Alright (Pete Moss Ultraviolet Mix)
02. Do You Feel Alright (Da Funk's Hacienda Dub)
03. Do You Feel Alright (George Horn Remix)
04. Do You Feel Alright (George Horn Instrumental)
05. Do You Feel Alright (Breakbeat Dub)
Release Info:
Here's the remix pack as a follow-up to the immensely popular original release. With deep and seductive mixes by Da Funk and Pete Moss-
it is sure to please.
Promo Reactions:

"It's the hacienda dub for me! ta x"
Moodymanc (Tsuba, Dessous, 20:20 Vision)
"this is dope!"
Nick Holder (NRK, Studio !K7, Dnh Recordings)
"thanks for the music. we like Breakbeat Dub and Da Funk's Hacienda Dub.
in support!"
Karol XVII & MB Valence (Loco Records)
"Very laid back and moody tunes in here -
will play the Da Funk remix and the Pete Moss rework."
Fabien Kamb (Body Rhythm, Neurotraxx, Low Flow)
"Many thanks for the promo! Amazing release! Beautiful deep!
Really like Pete Moss and Da Funk mixes. 10/10.
Add to September chart."
Feodor AllRight & Elena Mechta (AMDJS Radio Show)
"i love cosmic belt's sound!"
Steve Mill (Urban Torque, Elevation)
"love Pete Moss and the Da Funk Mix....want be now at Ibiza...
very well produced..."
Manou De Jean (YSR, Zaubermilch, Great Stuff)
"my fav are Pete's Ultraviolet mix and Da Funk's Hacienda Dub."
Lou Lamar (Ibiza Global Radio, Zurich By House)
"My fav is : Da Funk's Hacienda Dub & George Horn Remix.
Thank you for sending. Hot stuff. Will play today."
DJ Electric (Deepology, Luckystars, Clubstar)
"high class as usual my friend. Thanks for the music"
Joan Ribas (Ibiza Global Radio)
"Cosmic Belt - Do You Feel Alright
Pure Excellence In Every Sense From The Dance!"
Delmar Browne (AOL Radio)
"Uhmm fantastic remix,Love this tracks!!!!Beautifully executed. Will play"
Bobi (Club FM Radio)
"Ehee - i got the original - sounds cool - had on my show month a go - and this all package here is sooo fucking perfect. My whole respect to this original track and whole remix package. Really nice. Mucho R......rrrr..respecto ! Can not precaisly bring out any as they all sound great and i just do not like offfend any of the guys. All are fantastic!!!*
Ricky Inch (Cabrio Recordings, Deepology, Manuscript)
"I loved it. I will play in my next radio show. Thanks man."
Edground (Grooveland Music)
"Lovin this EP, very nice excellent quality on every track – Da Funk's Hacienda Dub is a tasty interpretation and the George Horn mix uses the vocal to full effect - Congratulations"
Craig Stewart (Raunchy Rhythms Radio, I-DJ Mag)
"Pete Moss & Da Funk mixes are top of the pile.....
nicely done and Spiritchaser support from me. R ;)"
Richard Earnshaw (Spiritchaser, Guess Records)
"The mix that stood out for me is the "Da Funks Hacienda Dub"
Cenzo (MidiDrop Music, Guess Records)
"T
hanks for this one guys, some smooth mixes here. Hard to pick a favourite, Pete and Dany's are probably going to get the most plays.....Bamo....;)"
Bamo (Spiritchaser, Guess Records)
"Da Funk's Hacienda Dub is the best mix for me."
DJ Dove (Stealth, Juicy Music)
"great deep house vibes here! thanks"
Husky (Random Soul, Salted, Shifted)
"hello guys,thanks for this. pete's mix is really cool. hacienda dub is also nice. Cheers"
Dave Mothersole
"solid release, ideal for warmup or latenight. my favs are pete moss and da funk remixes."
Andy Bach (Young Society, Zaubermilch)
"nice one, I like Da Funk mix & Pete Moss., sure to be cahrted next month."
Bruno From Ibiza (Café Del Mar, Ibiza Sonica, Atzareus)
"good, deep project"
Francesco Farfa (Ibiza Sonica)
Buy Now: