Da Funk-Smug / Don't Let Go Review @ Fluxx BPM Online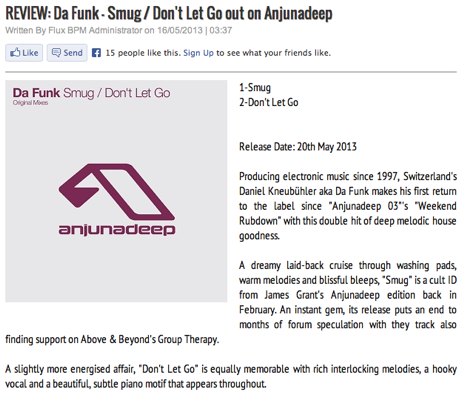 Anjunadeep is an example of a record label that started from the periphery of the EDM spectrum and now it seems that the sound of this label is all over the place and many artists that started from Anjunadeep moved to Anjunabeats that means that the label manage to get the acceptance, big exposure and huge respect from the community.
From mainly melodic prog house gems the label moved to other territories as well like deep house, tech house, ambient and even garage house. The brand new EP on Anjunadeep is the perfect warm up material for any house or even melodic trance set.
If you love to travel with your mind to faraway places while you dance freely with your favourite sexy grooves and hypnotic rhythms the Swiss Da Funk is right in front of your door to offer you two stunning examples of being futuristic based on the influences from the past.
You can not invent a brand new EDM style that is not based on already existing music styles and mainly house music that seems to be the base for the majority of other styles.
Da Funk provides two magnificent tracks that move within the progressive/melodic deep house territory . Smug is a melodic summery deep prog house composition that will impress you for sure as it starts slowly with a long atmospheric intro and then slowly is building up its various elements with bubbly beats, acid overtones, excellent little night/jazzy grooves, funky deep basslines and blissful melodies.
With some interesting edits and effects the track changes direction and allows some more energetic elements to penetrate its main section until the same effects to lead to the breakdown until the beat to come back for an impressive climax packed with melodies and incredible magical atmosphere.
Don't Let Go on the other side is an energetic melodic tribal house track that draws from wide canvas of music influences such as club house styles of the past with diva house style vocal samples to acid jazz/funk.
With ability to carry you away and suck you into its hypnotic spacey soundscape is definitely one of those tunes that the crowd will search and play it at home during holidays or lazy Sunday afternoons.
Jaw dropping release, Highly Recommended for the eclectic house ears.
Love it!